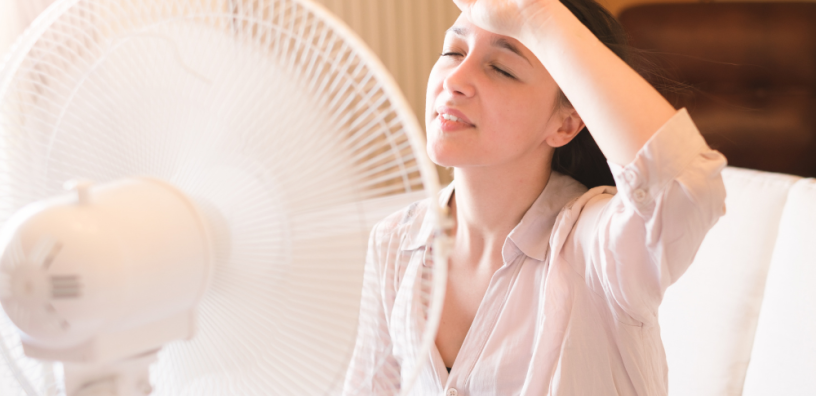 Summer Bedding Must-Haves
It's summertime (finally)! Depending on where you are, that probably means it's going to get steamy, humid, sticky, and balmy quicker than you can say "Geez, it's hot out here!" You're looking for ways to cool off — outside at the beach or pool, inside next to the fan with a cold drink in hand, or at night when you're tossing and turning in your bed. 
Sure, you can try turning the thermostat down to relieve yourself, but that will probably show up on your next utility bill. Ouch. Maybe crack open all the windows? Well, here come the summertime creepy crawlers, then (if you're a Florida native, we're talking those relentlessly loud cicadas). 
What about switching out your old, heavy bedding for some that is lofty, crisp, cool, and airy? Where do you find such bedding, you might ask? Keep reading to find out!
What material makes for the coolest sleep during the summer months?
Bamboo viscose! Bamboo viscose is a blended fabric (with microfiber polyester) that is naturally breathable and temperature regulating. It's softer and stronger than cotton, safe for sensitive skin and noses, easy to care for (the old handy-dandy washing machine and dryer duo), and always feels crisp, airy, and fresh. 
Quick Bedding Fixes
If you're looking for summer bedding to beat the heat quickly and easily, consider just one bedding upgrade rather than redoing your entire bedroom. Something as simple as a new pillowcase or a new sheet set can chase away those sweltering summer temps. You need something lightweight and lofty, while also being durable and ultra-soft. We've got you covered — you can say adios to night sweats. 
Here are a few of our favorites:
Cosy House Luxury Bed Sheets

— These sheets are carefully crafted to be used all year round, for every season. With their premium bamboo viscose blended material, they are able to naturally regulate body temperature, wicking away excess heat and moisture for a cooling effect. Plus, they're incredibly soft, buttery-smooth, and hypoallergenic. If you're always fighting against the summertime inflammation season, too, these sheets are perfect for those stuffy noses. 

Cosy House Luxury Pillowcases

- Made with the same idea behind the Luxury Bed Sheets, these cases are not only hygienically protective but also designed with a bamboo viscose blend that wards off common household non-living allergens while also wicking away moisture. These cases will leave you waking up feeling like you just stayed at a 5-star hotel that also just so happens to be a safe haven from the heat. You deserve the cool side of the pillow, and we guarantee that's always the case with these refreshing pillow covers.

Cosy House Luxury Pillow

— A new pillow might do just the trick to keep you cool in the summer. These pillows are plush, soft, made with bamboo viscose, and also hypoallergenic. The outer bamboo viscose case of this pillow is cooling, breathable, and stays fresh. What's even better—Cosy House crafted this pillow with CertiPUR-US high-density shredded memory foam and an adaptive transition foam, offering relief and ideal head elevation.
For summer bedding, is less more? 
You might be thinking you need to ditch the big, thick blanket in order to stay cool when it's so hot. But, you can't sleep without some sort of cover? No need to fret! Look no further:
Cosy House Luxury Down Alternative Comforter

— Stuffed with a fluffy polyester fill that resembles the airy, cuddly-softness of traditional feather down, this comforter is made of that same soft, lightweight, breathable bamboo viscose and polyester blend that resists common non-living allergens, wicks away moisture, and keeps you comfortable all night long. It's time to chill out for some seriously comfy sleep this season, and this comforter is a great way to do just that. 

Cosy House Luxury Duvet Cover Set

— This duvet cover set comes with one duvet cover with a hidden zipper closure, plus two matching pillow shams, all made of Cosy's signature bamboo viscose and polyester blend. The duvet cover is sure to keep you cool during the summer because of the silky-soft moisture-wicking finish that not only resists stains and wrinkles, but also circulates airflow for a cooler sleep every time. 
What are some ways you beat the summer heat? How has our Cosy House bedding helped you get better sleep? Let us know in the comments below! The Cosy community would love to hear from you. 
Happy Sleeping!
We've gone ahead & enclosed a 10% off coupon below for you to use if you'd like to take the plunge and try out our sheets for yourself! To shop our collection & get 10% OFF Use the code 'BLOG10' at checkout.