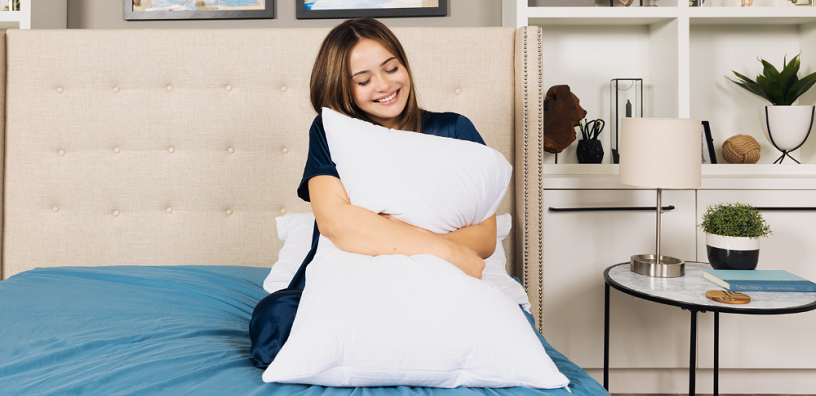 The Cosy House Collection Pillow Quiz: Which Pillow Is Right For You?
Do you wake up with a stiff neck or a headache? Are you tired of tossing and turning all night long? If so, it might be time for a new pillow. But with so many different pillows on the market, how do you know which is right?
That's where the Cosy House Collection Pillow Quiz comes in. And it's only 3 straightforward, super easy questions.
So what are you waiting for? Take the quiz now!
Get The Sleep You Deserve: Take Our Quiz Below
Question 1: What kind of sleeper are you?
A

- Tosser & Turner: I can't keep still at night.

B

- Side Cuddler: I love to snuggle up with my pillow on my side.

C

- Back/Stomach Sleeper: I prefer to sleep on my back or stomach.
Question 2: Which best describes your current pillow?
A

- It's a bit worse for wear, but it still has some life in it. I definitely need an upgrade.

B

- It's lost all of its loft. I need a lot more support.

C

- It's not breathable and makes me sweat at night. I need something cooler.
Question 3: What kind of pillow do you prefer?
A

- Firm: I like to keep my head in place.

B

- Soft: I love feeling like I'm sleeping on a cloud.

C

- Medium: I'm more of a Goldilocks sleeper.
Are You Ready? Here's Your Pillow Match
You answered
:
Mostly As.
You need the Cosy House Collection Luxury Pillow—a pillow that is supportive, even if you tend to move around at night. This indulgent, multi-layer bamboo viscose pillow is designed to give extra support and comfort to the head, neck, and spine. It also has supportive and adjustable shredded memory foam fill for a truly customized sleeping experience.
You answered
:
Mostly Bs.
You need the Cosy House Collection Luxury Body Pillow! You love to be cuddled up to a lofty cloud at night, which is why this pillow is perfect for you. With the perfect combination of plushness and support, your muscles and joints will experience instant pressure relief with this seriously fluffy pillow.
You answered
:
Mostly Cs.
You need the Cosy House Collection Everyday Down Alternative Pillow! You're searching for something that can get the job done and delivers an airy, luxury-plush feel that sleeps cool and lofty. These pillows—designed for every kind of sleeper—are just the thing. Made from 100% recycled and chemical-free polyester fill, these generously stuffed pillows stay breathable and airy all night long, while also wicking any moisture to keep you cool and dry.
No matter what your sleeping habits or preferences are, Cosy House Collection has a pillow that's perfect for you. Click here to explore your options and find your dream pillow today.
But the goodies don't stop there! You can also click here to shop all our high-quality premium home goods and start turning your house into a home.
We've gone ahead & enclosed a 10% off coupon below for you to use if you'd like to take the plunge and try out our sheets for yourself! To shop our collection & get 10% OFF Use the code 'BLOG10' at checkout.
Do you have a pillow you love and swear by? What kind of pillow is it? Let us know in the comments. The Cosy community always loves hearing from each of you!