Skip to content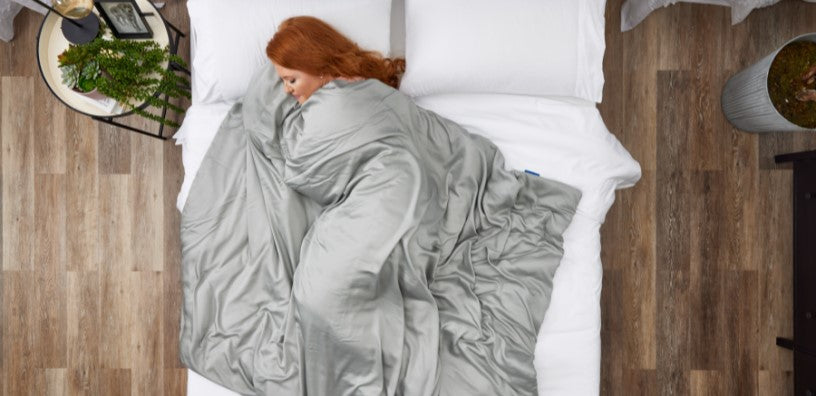 7 Things to Consider When Shopping for a Weighted Blanket
Weighted blankets are coveted for their ability to reduce daily stress and anxiety. Their hefty poundage is supposed to feel like a cozy, cuddly hug to keep you calm. If you have long days at work or are prone to anxiety (and let's be real, we all are), you will love having a weighted blanket in your house. 
When shopping for a weighted blanket, it's important to know what to look for. Big brands will try to dupe you with fancy verbiage and super high prices, but the best kinds of weighted blankets are wallet-friendly, straightforward, and help in the alleviation of anxiety while promoting tranquility.
If you're looking for a new cuddle companion, keep reading to know what you should be searching for. 
Is it made with extra security?
A weighted blanket should be durable and secure. When you're out there browsing, check for fastening loops, which are intended to keep your blanket in place beneath the blanket's cover insert. Extra security can also look like:
An included reinforced zipper on the cover insert, so you can tie your blanket into the cover, zip it up, and enjoy. 

Protective, individually sewn pockets are also a game changer - look for pockets made of durable, rip and tear-resistant microfiber to prevent leaking. 
Does it have a square quilted pattern cover insert?
Why is this even important, you might be asking?
A square quilted pattern of the cover insert provides the even distribution of the glass beads (these beads are what make the blanket heavy) inside the blanket. You want the glass beads to be evenly distributed so they don't clump together in random sections of the blanket - that won't feel like a hug at all. 
Is it designed with deep-touch pressure technology?
You want a weighted blanket that gives you a warm, comforting feeling. That's where deep-touch pressure stimulation technology comes in. This unique technology is created by thousands of tiny glass beads that should be evenly distributed throughout the fabric. The best kinds of weighted blankets weigh at least 15 pounds to promote the ultimate sensory relaxation experience. 
What is it made of?
What is the material of the weighted blanket you're looking at? This is a very important factor to consider.
We recommend looking for bamboo viscose blends in your weighted blanket search. 
Bamboo viscose material: 
Has an unmatched luxurious silky-softness.

Has unique natural ventilation properties to reduce the risk of overheating.

Is hypoallergenic and repels common household non-living allergens which means it stays cleaner for longer — reducing the frequency of washing.

Is super plush and buttery smooth-to-the-touch.
Is it temperature regulating? 
Your weighted blanket shouldn't just help with feelings of anxiety - it should help you get comfy, get some rest, and stay cool. That's why we mentioned bamboo viscose blended fabrics. Bamboo viscose is temperature regulating, so you don't get overheated underneath your big, heavy blanket. 
Why are bamboo viscose fabrics and temperature regulation important? Because:
Natural ventilation keeps you cool and cozy. 

It helps in promoting total relaxation. 

Bamboo viscose is more breathable than cotton (time to ditch those old cotton blankets).

A bamboo viscose cover insert wicks away excess body heat & moisture. 

Unlike traditional weighted blankets that leave you hot and sweaty, temperature-regulated blankets are perfect for all-season year-round use, even during hot spring and summer months
Is it easy to wash?
Weighted blankets are, well, BIG. You will probably find that most big-brand weighted blankets can be a hassle to keep clean, let alone wash, simply because they weigh so much or aren't washer-friendly. 
When you're shopping for your new cuddly buddy, look for clear marks of easy care: 
Is there a cover included with the purchase of the blanket?

Is the cover machine washable and dryer friendly?

Does the cover include a zipper for easy removal? 

Does the material of the blanket's cover resist common non-living household allergens?

Is the blanket itself designed with LEAK-Proof stitching?
Is it planet and wallet-friendly? 
You should be looking for a blanket that is made from high-quality, mindful materials. We may sound like a broken record, but it's best to opt for a blanket made with bamboo viscose blended fabrics. Why? Bamboo is one of the fastest-growing renewable sources on the planet and uses less water than cotton. 
It's also no secret that weighted blankets can be expensive, so how can you get the most bang for your buck? Look for weighted blankets that include a bamboo viscose cover, a high-quality blanket topper, protective pockets, and premium glass beads in their design. If the blanket doesn't also come with a 100% Satisfaction Guarantee, it's time to look elsewhere. 
So, what's the consensus? 
All that browsing and searching can be quite the time and energy consumer, so we went ahead and did the hard part for you. We found you a weighted blanket that checks every single box we mentioned above - 
Our weighted blanket was made with you in mind - to comfort, soothe, and promote wellness and calm by engaging key relaxation pressure points. It's a full-body hug, whenever you want. Whether you're enjoying an escape after a long day or curling up to binge-watch that new TV series everyone has been telling you about, our Luxury Weighted Blanket is the perfect companion.
We also include a Luxury Bamboo Viscose Cover with your weighted blanket, which provides numerous benefits like we mentioned above. 
The Cosy House Luxury Weighted Blanket also offers:
Ultra-soft 330 thread count bamboo viscose cover insert that resists wrinkles and common non-living allergens.

Specially designed LEAK-Proof stitching is stronger than your typical weighted blanket.

A cover insert that is finished with a premium zippered enclosure for easy removal.

Easy to clean bamboo viscose cover insert that is machine washable and dryer-friendly.

Calming comfort through premium-grade glass beads, designed to promote relaxation. 

Heavy-duty, reinforced 8 fastening loops for extra security.

Luxurious softness through our bamboo blend that regulates body temperature to keep you cool and is kind to your skin. 
What are you waiting for? Check out our Luxury Weighted Blanket today! 
What do you think of our weighted blanket? Let us know in the comments below. The Cosy community loves hearing from you!
Happy sleeping!
We've gone ahead & enclosed a 10% off coupon below for you to use if you'd like to take the plunge and try out our sheets for yourself! To shop our collection & get 10% OFF Use the code 'BLOG10' at checkout.