Skip to content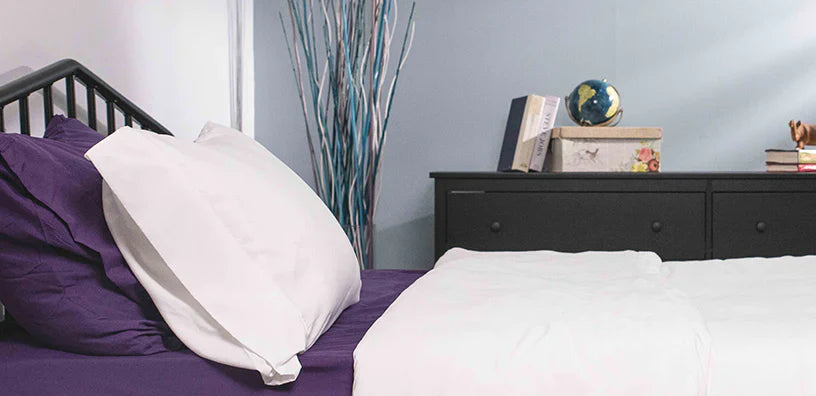 5 Easy Ways to Elevate Your Guestroom for the 2023 Holidays
As the holiday season approaches and you anticipate hosting friends and family, creating a warm and inviting guestroom is essential. You don't need to break the bank to provide a luxurious experience. In 2023, we've compiled five simple yet effective ways to transform your guestroom into a cozy retreat without straining your budget!
1. Elevate Your Bedding & Curtains
Start by giving your guest room some character with chic window coverings that enhance both privacy and natural light control. For those who love the sun, adjustable drapes or curtains will cater to their preferences.
But what truly makes a difference is upgrading the bedding. For the ultimate comfort, invest in the 2023 bedroom essential—the Cosy House Luxury Collection, crafted from a blend of bamboo viscose and polyester. These sheets offer exceptional durability, and hypoallergenic properties, and stay cooler than traditional sheets. Your guests will enjoy a blissful sleep experience with temperature-regulating sheets that refresh them every morning!
2. Stock Up on Extra Linens
Accidents are bound to happen, so be prepared by storing extra linens in the closet or under the bed. With Cosy House Luxury Sheets, stains are easily washed out, saving you precious time on cleaning. Keep additional sheets, pillowcases, and silky soft beddings ready for unforeseen situations or when it's time for your guests to depart.
For added comfort, consider leaving an Everyday Fleece Blanket on top of the bed. Cosy House's microfiber-polyester fabric offers unrivaled softness and durability, making it an excellent choice for your guests. Plus, it's easy to maintain and resistant to common household allergens!
Don't forget to provide extra bath towels and hand towels for that extra touch of hospitality. Impress your guests with Cosy House Foaming Hand Soap in the guest bathroom for a resort-style experience.
3. Create Extra Space
A comfortable seating area is a must for your guests. Include a side chair or an upholstered loveseat in the room, accompanied by a side table and a lamp for added convenience. To accommodate your guests' luggage, consider installing a luggage rack or a bench to prevent them from having to stoop to the floor when accessing their belongings.
4. Let the Light In
Natural light plays a crucial role in creating a comfortable and inviting ambiance. Instead of simply opening the curtains or windows, consider the color scheme of your guest room. For 2023, we recommend incorporating bright, light-reflecting colors like white, turquoise, cream, or sage green. Whether you mix and match or stick to a single hue, you can infuse your guest room with a fresh and inviting atmosphere by choosing furniture, bedding, and decor in harmony with your chosen color palette.
5. Help Guests Stay Connected 
In today's digital age, guests will likely want access to your Wi-Fi network. Make their lives easier by providing clear and visible access to your Wi-Fi information. You can write it down on a notepad and leave it on the nightstand or use an aesthetically pleasing chalkboard hanging on the wall. Ensure your guest room also features a desk, chair, and a good lamp for guests who need to work while they visit. 
Cosy's Extra Tips of 2023
1. Enhance the Aroma
In 2023, create a captivating atmosphere with delightful scents. Use high-quality room fragrances or scented candles in your guestroom to add an extra layer of comfort and relaxation. Scents like lavender, eucalyptus, or vanilla can work wonders to create a soothing and inviting environment that your guests will love.
2. Personalized Welcome Cards
For a special touch in 2023, consider leaving a personalized welcome card or note for your guests. This heartfelt gesture will make them feel truly appreciated and at home in your guest room! Include a warm greeting, essential information, and any personal recommendations for their stay. It's a small detail that can leave a lasting impression and create a more memorable experience for your guests.
2023 Protip: Make your guests feel even more comfortable by offering thoughtful essentials like clocks, stationery, a curated collection of reading materials, bottled water along with some glasses on the nightstand, a bowl of mints or individually wrapped chocolates on their pillows, and mini-sized toiletries in the bathroom.

 
Find more inspiration for your guests' home away from home by exploring the full range of offerings from the Cosy House Collection here. With Cosy House, you can provide your guests with quality essentials, all while maintaining your budget and adding a touch of style and ease to their stay!
We've gone ahead & enclosed a 10% off coupon below for you to use if you'd like to take the plunge and try out our sheets for yourself! To shop our collection & get 10% OFF Use the code 'BLOG10' at checkout.